beans cucumbers and feta cheese salad recipe
This unique recipe combines taste, fresh ingredients, rich colors, and delightful flavors. It is light, diet-friendly, Mediterranean, and very refreshing. Our salad is quick to make and looks great. It is a must-make salad if you have friends coming over for dinner. We really like the feta, beans, and tomato combo, and this is one of our family's year-round favorites. I've served it countless of times. It is ideal for all seasons, and the ingredients are packed with nutrients. You can add your favorite veggies for more color and richness of taste.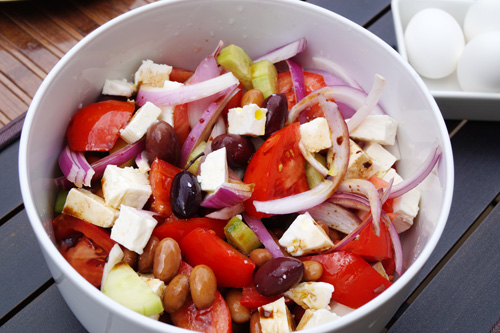 ingredients
1 cucumber, sliced
2 large tomatoes, sliced
(6 cherry tomatoes)
1 can of Romano beans
1 small red onion, chopped or thinly sliced
12 black olives
150 grams of feta, crumbled
Salt, pepper, and lemon juice to taste
MAKES: 6 servings
preparation
Put the beans in a colander and rinse it with water. Drain well. Combine the olives, red onion, beans, tomatoes, and cucumber. Toss to mix well. Garnish with feta. Optionally, you can add 1 - 2 cloves minced garlic, fresh cilantro leaves, and 1 can of artichoke hearts.
Italian-style dressing:

- 1/2 tablespoon of parsley
- 1/2 tablespoon of dried basil
- 1/3 tablespoon of dried thyme
- 1/2 tablespoon of dried oregano
- 1 garlic clove, minced
- 3 tablespoons of water
- salt and pepper to taste

Combine the dried oregano, thyme, basil, parsley, and minced garlic. Add water and season with salt and pepper. Then pour in a bottle or jar, and shake to mix well. Pour the dressing over the salad.
Olive oil dressing:

- 4 tablespoons of olive oil
- juice from 1 lemon (or white vinegar)
- salt and pepper to taste

Alternatively, you can make olive oil dressing. Combine the lemon juice with olive oil and season with salt and pepper. Refrigerate for 1 - 2 hours and serve.