colorful veggie omelet recipe
This is a wonderful way to power up with a filling and delightful breakfast to keep you and your kids going all morning. Our veggie omelet tastes a lot better than food from a drive-thru, and it is much healthier. This omelet is also suitable for a light brunch. The combination of protein, fiber, and healthy fat make it a nutritious, family-pleasing meal. It is a great meal when peppers are in season, and eggs go so well with peppers. Add the right amount of condiments and spices for an amazing meal.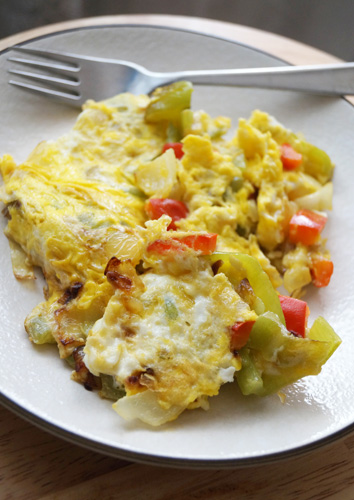 ingredients
4 eggs
1 green pepper (chopped)
1 red pepper (chopped)
1 small onion (chopped)
2 tbs butter
salt, pepper to taste
MAKES: 2 servings
preparation
Deseed and chop the peppers into small pieces. Chop the small onion. In a large non-stick skillet over medium-high heat melt the butter and cook the chopped peppers and onion until golden (about 2-3 minutes).
Add the eggs, salt and the pepper. When edges of the omelet appear cooked using a spatula flip the eggs over.
Use a spatula to slide the omelet onto a plate and serve. Garnish with sliced red pepper.