cucumber soup recipe
An excellent side dish this "cold soup" is very appetizing. I love to make this soup during the hot summer days. It is extra refreshing and surprisingly filling!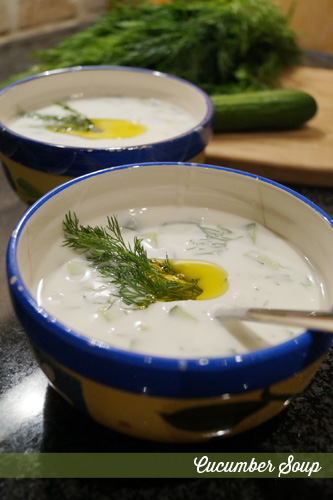 ingredients
1/2 English cucumber
2 cups yogurt
1 cup water
2 tablespoons dill
2 gloves garlic minced
salt to taste
olive oil
MAKES: 4 servings
preparation
Peel and chop the cucumber into small cubes. To mince the garlic use garlic press if you have one handy. In a salad bowl add the cucumber, garlic, dill and salt.
In a separate bowl mix the yogurt with water. Use a fork to blend (it doesn't get lumpy this way).
Combine the yogurt with the cucumber mix and add olive oil. Serve chilled. In the summer you can add ice cubes.