low carb butter chicken recipe
This recipe is a definite must-try and is friendly to a variety of tastes. It is loaded with wonderful yummy flavors, seasoning, and nutritious ingredients. Butter chicken combines some of my favorite condiments and ingredients such as ginger, tomato paste, butter, and cream. And it is so easy to fix for a workday dinner or a special occasion. Chicken is tender and tastes great combined with olive oil, onion, and vegetable broth. You will love the richness of tastes and colors which make this meal super special and everyone's favorite.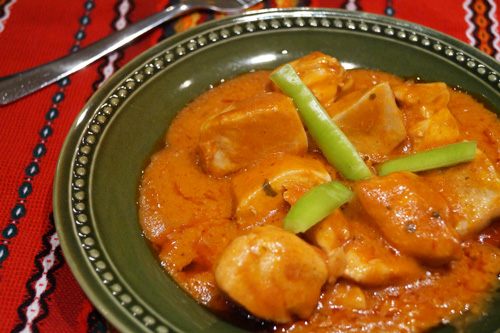 ingredients
2 pounds chicken
1 can tomato paste
1 cup vegetable broth
1 - 2 tablespoons olive oil
1 teaspoon fresh ginger
1 tsp curry powder
1 onion
3 tablespoons cream
2 - 3 tablespoons butter
salt and pepper to taste
MAKES: 4 - 6 servings
preparation
Peel and chop onion. Preheat olive oil in a pan and add ginger and onion. Cook for 2 - 3 minutes and stir occasionally until onion is browned. Add vegetable broth and tomato paste and curry powder and cook for 3 - 4 minutes. Then add cream, cook for several minutes, and bring to boil. Let it simmer for 3 - 5 minutes and set aside. Leave to cool. You can also process in a blender. Blend until creamy and smooth. Transfer to a bowl.
Cut chicken into 3/4 inch pieces. Season with salt and pepper. Place chicken in a pan and add butter. Cook for 4 - 5 minutes and add the creamy sauce. Stir occasionally and cook for 4 - 5 more minutes. Leave to cool for 5 minutes and serve.