mushrooms beans and pepper medley recipe
This veggie medley is friendly to different tastes and food preferences and is an excellent choice to use for stuffing. Mushrooms, beans, and red bell peppers blend beautifully in this satisfying and simple dish. It is just the right dish for a quick dinner or lunch so you should definitely try this handy recipe. The ingredients combine well for a terrific taste and fit any budget. This is one of our favorite low-budget healthy recipes. You will appreciate it when you have limited time to make a special meal. Stuff turkey or chicken to add delicious flavor.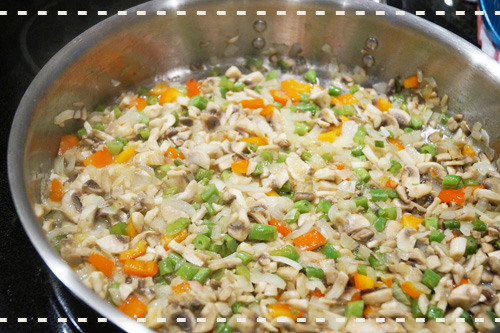 ingredients
1 red bell pepper
1 large onion, chopped
200g cremini mushrooms, chopped
50 g green beans, chopped
Salt and freshly ground black pepper
3 tablespoons olive oil
MAKES: 6 servings
preparation
Remove the stem, core and seeds from the pepper and chop it. Chop the mushrooms and onion. Set aside.
Heat the olive oil in a large pan over medium heat. Add the onion and cook, until soft and golden in color, about 7 to 8 minutes.
Add the mushrooms, pepper and green beans and continue cooking until the mushrooms have turned golden brown.
Remove the cover and cook for 2 to 3 minutes longer, stirring often. Serve in a large bowl as a side dish.