no bake sweet salami recipe
Low carb sweet salami is a delicious treat for a buffet, get-together, or tea time. For many this is a traditional Italian dessert from the Tuscan region. It is refined, delicate, and so delectable and takes no time to make. In fact, sweet salami is embarrassingly easy to prepare and looks beautiful, regardless of the occasion. You can serve with coffee and fresh fruit or whipped cream or custard. This is a lovely dessert for your coffee socials and a great, comforting dessert to try. The best part is that no baking is involved - more time for you to enjoy with friends.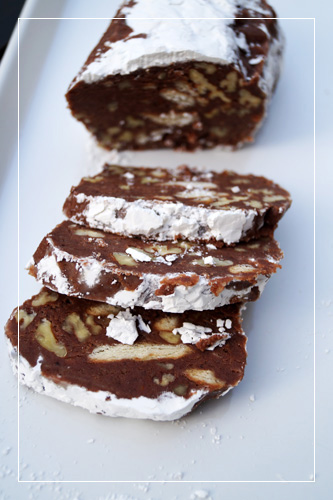 ingredients
150 g butter (softened)
1 cup sugar-free powdered confectionery sugar**
200 g walnuts (chopped)
120 g sugar-free biscuits (coarsely crushed)
2 tbs cocoa powder
1 tbs rum
1 tbs vanilla
For the wrap:
aluminum foil sheet 30cm x 30cm
3 tbs sugar-free powdered sugar or corn starch
MAKES: 12-14 servings
preparation
In a bowl, mix together the sugar-free powdered sugar and softened butter and beat with a mixer. Add the vanilla and beat until well blended and very creamy.
Add the walnuts and cookies and mix well. Add the rum and cocoa powder and mix the dough with your hands.
Shape the dough in a log/salami shape and set aside. Get a sheet of aluminum foil and spread corn starch or sugar-free powdered sugar on it. Roll the log in the sugar until coated. Wrap the log in the aluminum foil and leave in the fridge overnight.
Cut the salami into thick slices to serve.

**You can make your own sugar-free powdered sugar using 1 cup powdered sweetener and 1 tbsp corn starch or arrowroot powder (optional for storage; use corn starch to keep sugar from caking together)

Or 1/2 cup xylitol and 1/2 cup sucralose. Combine them in a food processor or blender.