omelet with mushrooms and bacon recipe
This colorful omelet blends vegetables, eggs, bacon, and small amounts of butter and is very simple to put together. It is a great breakfast meal on busy mornings and a tasty upgrade to traditional omelet. This is a savory, quick-to-make breakfast or brunch. The recipe is easy to follow, whether you are a novice or all-around cook. Our mushroom and bacon omelet is a fluffy and flavorful dish with a nice texture. Our friends and everyone at home raves for this tasty omelet so we hope you enjoy it equally!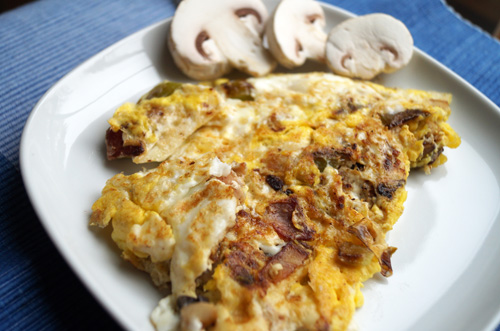 ingredients
4 eggs
1 green pepper (chopped)
1/2 cup mushrooms (cut)
4 slices of bacon (cut into small strips)
2 tbs butter
salt, pepper to taste
MAKES: 2 servings
preparation
In a large non-stick skillet over medium-high heat melt the butter and cook the bacon, chopped pepper and mushrooms until golden (about 2-3 minutes).
Add the eggs, salt and the pepper. When edges of the omelet appear cooked using a spatula flip the eggs over. Use a spatula to slide the omelet onto a plate and serve. Garnish with sliced mushrooms.