seafood chowder recipe
This seafood dish is full of flavors and colors and is the perfect choice for a quick weeknight family meal. You can make it for a formal and elegant dinner too. Leek, celery, and carrots complement fish skillets perfectly in this balanced seafood dish. Garlic, cumin, and basil add a lot of flavor to this tasty, light meal. Chowder is wonderful to serve on any occasion and even picky guests will appreciate it. It's easy to prepare, and the ingredients blend nicely. This is one of the finest seafood recipes around!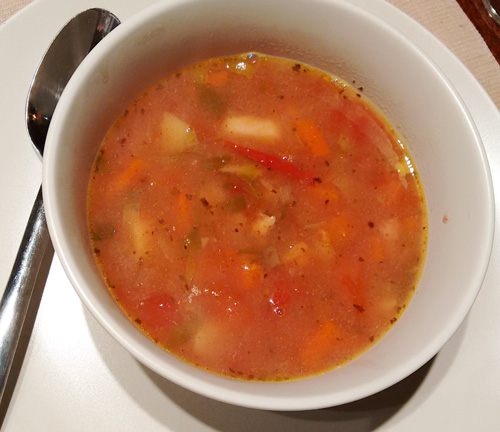 ingredients
2 tbs. butter
1 carrot (chopped)
1/2 leek (chopped)
1 celery stick (chopped)
1 clove garlic, minced
1 1/2 cups chicken broth or water
1 1/2 cups canned peeled and diced tomatoes
2 skinless cod or haddock fish fillets (400g)
1 pack seafood medley - 400g (shrimp, crab meat, squid, mussel meat)
1/2 cup finely cut fresh basil
1 teaspoon ground cumin
MAKES: 10-12 servings
preparation
Heat the butter in a large saucepan over medium heat. Add the carrot, leek and celery and saute, stirring often, for about 5 minutes. Add the garlic and cook, for 1 minute.
Add the stock/water, basil, cumin. Bring to a boil. Reduce heat to low and simmer, for about 10 minutes.
Add the fish and sea food medley and cook, for 5 minutes. When the fish is just cooked add the tomatoes and simmer for another 5 minutes. Sprinkle with basil and season with pepper. Serve hot.